About The Weather
Click on a location below for a forcast:

---
A link below for a local channel website close to the James River plus NOAA weather page and a few other links for weather conditions, :


Andrew Freiden's forecast with video

Hazardous Weather Outlook
NOTE: Forecasts for the James River at Richmond Locks are issued as needed during times of high water, but are not routinely available.
Click here for updated Chart on water levels for the James River @ Richmond
---
---
Catfishing on the James River in Virginia
The Lower James River in Virginia
So where do you start??
The wind can make it tough...13-16 mph and you can count on gust to be at least 5 mph over that......and then if you get the wind that is opposite the tide it can get quite choppy... in fact in the big water areas at Hopewell and below I have been told that swells of 5' and higher with winds at 20 mph...my understanding a west wind can make it tough on the James...anything much over 10.....I was told if you have a smaller boat and the wind is over 10 stay above Presque Isle.....
Two things I've learned about the river:
1) If they're calling for 15 mph winds, there will be plenty of gusts of 20 mph.
2) Open straights and big water on the river is the worst.... the area from Hopewell to Flowerdew (big water)......and up river of the Prequille cut to the Deep Bottom cut through....and up river side of the Deep Bottom cut through to the 295 bridge...
Usually the Deep Bottom cut through is okay in wind. Following that, I'd be up river somewhere if I were you in a 16' boat in 15mph winds.....another usually "protected" spot is the Barge Pit entrance.
---
Reports how bad the river can get and quick
---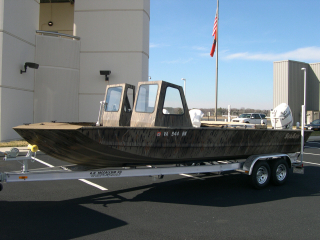 Everything started off nice, bait was tough, but we managed. I decided to make a run down river to Flower Dew, BIG MISTAKE. The ride past Jordan point was choppy, but OK, once we got to the power lines, it turned ugly quick. By the time the stupid captain of the ship (me) finally decided it was too rough and turn around, we were faced with 40+ MPH winds and 3-4 foot seas. During an attempt to turn the boat up river, we caught a wave quartering on with the bow down in between swells. The first wave went over the top of the consoles and covered us all in water. Due to bad timing on my part, the second wave that was close behind hit us dead on, bow down, and submerged the first 7-8 feet of my
24 foot SeaArk
. I watched as an 18 inch high wall of water rushed between the consoles and the nose of the boat disappeared. FULL THROTTLE!!
Thankfully the water rushed back, the bow came up before the next wave, and we stayed afloat. The bilge pump ran non-stop for the next 45 minutes as we picked our way back up river. END RESULT: NO fish, wet passengers, and a renewed respect for the power of water
---
Gentlemen let me tell you something .. if the wind is EVER forecast to be anywhere close to 20mph DO NOT go out on that river .. I almost didn't make it back today
My buddy and I were in a creek all morning and the wind was calm in there .. by the time we made it back out to the main river the waves were 5 feet high or more .. we immediately put our life vests on and started working our way back .. not good when it took us a full half hour to get to the creek at wide open throttle
It took 15 minutes of riding the waves, getting soaked and swamped to get into Tar Bay .. Tar Bay I think saved our lives today .. 2 foot breakers are much better than ones that are breaking over the bow every hit.
We stopped at Jordan point and I got a guy hanging out there to take me to my truck at Hopewell .. never ever again will I go out when its windy like that
---
I almost bought last year in Jan. I put in at Deep Bottom. Fished some spots down towards Shirley and decided to try up in the Appomattox. It was nice when I crossed into the Appomattox. Caught a few fish, fun day no whoppers but lots of fish from 7 to 15 pounds or so. When it came time to leave the winds had kicked in high gear. We had a tough time making it back up to Deep Bottom. I was in a 16 foot Aluminum Lowes Jon. Never again.