JAMES RIVER CATS
Catfishing for the Blues on the James River in Virginia.
---
The Lower James River Landings/Ramps

Maps & Access
Public boat access in the freshwater fishing section the tidal James River is available at:

Ancarrow Landing, in Richmond

Map





Osborne Landing in Henrico County

Map





Dutch Gap in Chesterfield County

Map




Deep Bottom in Henrico County

Map




Chickahominy Riverfront Park in James City County

Map






Morris Creek Landing Off the Chickahominy River

Map
Private (fee) ramps are available at:

Jordan Point Marina downriver of Hopewell at the Benjamin Harrison Bridge

Map

**Note** Jordan Point Ramp has a deep pot hole (under water) in the center of the ramp. Keep close to the walkway/building when putiing in or taking out your boat.



Hopewell City Marina

Map




Several smaller private marinas and landings
---
So where do you start??
Well the landing I perfer is Deep Bottom. The landing is in a public park....
A very popular landing to put in on the James is Deep Bottom
Check out the photos/slideshow of
Deep Bottom Park
Deep Bottom Park
, 9525 Deep Bottom Road, is along the James River in and unusually deep section of the river in eastern Henrico County at Four Mile Creek near Curles Neck. The park has picnic shelters, restrooms, a boat landing, parking lot large enough for boat trailers, canoe launch along Four Mile Creek and fishing opportunities
Directions to Deep Bottom from I-95. Map
---
Dutch Gap Landing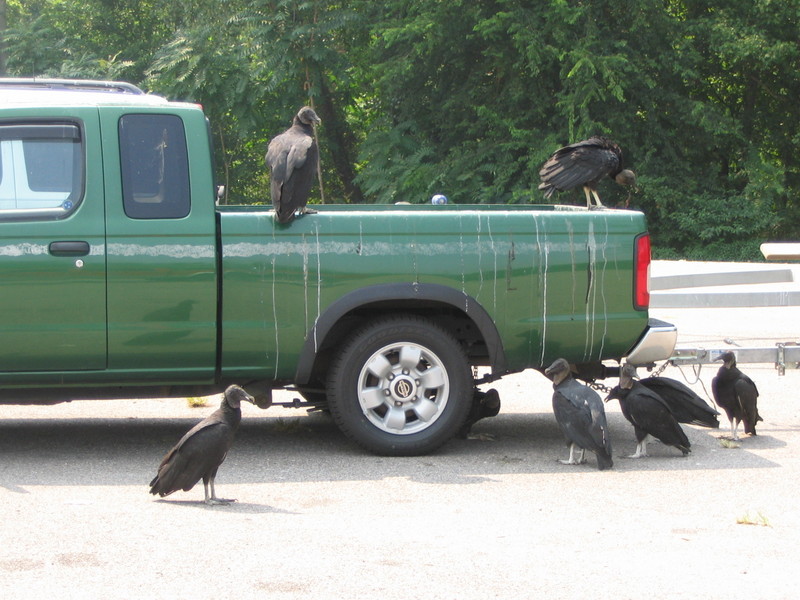 **Note** No reports of any problems with Black Vultures since 2008, just be careful about leaving any kind of trash in the back of your truck.
Dutch Gap Black Vulture Management
Captain Hugh Self likes to put in at Dutch so when we met up with him in 07 & 08 we would always cover the truck with a tarp.
October 2007:
Well this could be your truck, that is if you park at the Dutch Gap Landing on the James River. As of Oct 30, 07, they are back, the black vultures of Dutch Gap, and their presence is as perplexing as any Halloween mystery. You can kill them, but they keep coming back. At a boat landing on the James River near Chester, the big black birds scratch and defecate on parked vehicles. They also cause problems at a power plant next door. Over the past seven years, the damage has run into the tens of thousands of dollars.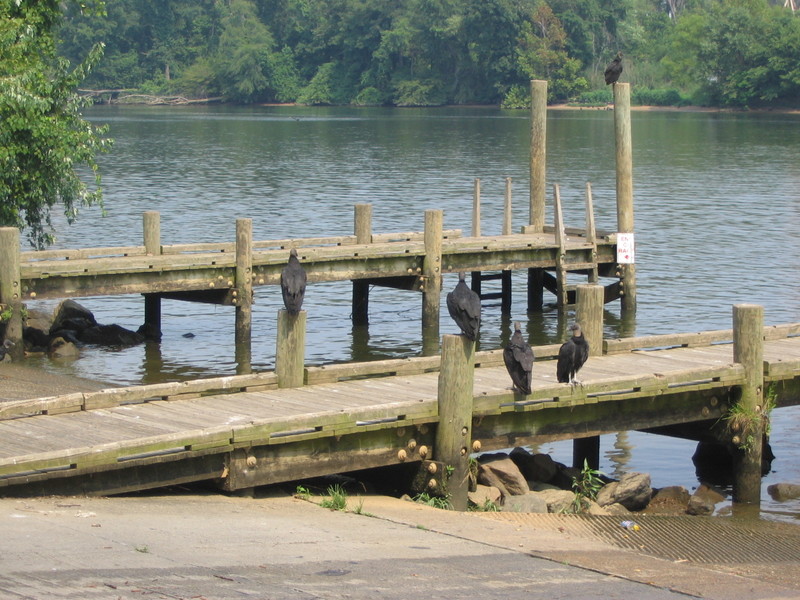 Directions & map to Dutch Gap
---
---
1350 John Tyler Highway
Map

Williamsburg, VA 23185
(757) 258-5020
Ramp (fee)

Camping (fee)

Pool

Store

Storage
---
9100 Wilcox Neck Rd Map
Charles City, VA 23030
Phone: (804) 829-2753
Located approximately half way between Richmond and Newport News, River's Rest Marina & Resort offers a first class marina, comfortable lodging and dining in a secluded Chickahominy River waterfront setting. With its close proximity to Williamsburg, other nearby attractions and on-premises water sports, River's Rest has something to please every member of the family.
The River's huge blue catfish also attract a lot of attention . But best of all, the Chickahominy offers angling variety for a number of different species.
---
The Chickahominy Wildlife Management Area
/
Morris Creek Landing
Parking areas are located along routes 623 and 621 as well as along some of the interior roads. An excellent public boat ramp on Morris Creek gives boating and fishing access to the creek and the Chickahominy and James Rivers. Trails mowed to benefit wildlife also invite hikers. A well developed sighting-in range for rifle and shotgun shooters is a popular feature of this area.
The Chickahominy Wildlife Management Area is most readily approached from state route 5 eight miles east of Charles City Courthouse, at Rustic. Here, take route 623 north. The area may also be approached from U.S. Route 60 at Providence Forge by taking State Highway 155 south; then left onto route 614, left again on 615 and bear right onto 623. Consult the map for greater detail.